EYFS Leader - Mrs. Millington
Link Governor - Mrs. King
Holmer Lake Primary School
Early Years Foundation Stage Curriculum Statement
Intent, Implementation and Impact
Intent
At Holmer Lake we aim to provide motivating first-hand experiences to enable children to learn more and remember more. Our Early Years Foundation Stage (EYFS) curriculum is designed to ensure planned progression in children's cognitive development alongside their personal, social and emotional progress. Our curriculum has been adapted alongside the new EYFS framework to create a systematic and sequential development of children's knowledge and skills. We have created a broad and rich curriculum that enables children to achieve their Early Learning Goals (ELG's), with the flexibility to adapt based on their fascinations. Children have access to a range of opportunities and resources linked to all 7 areas of development both inside and outside.
We aim to:
Provide a curriculum that offers children a wide range of opportunities ensuring that we do not expect children to aspire to things they have never encountered.
We will work on broadening their experiences providing opportunities to try new things and encouraging them to relish a new challenge
Provide high expectations encouraging them to develop independence and creative thinking.
Provide a learning environment that helps children achieve their potential and support those who need additional help
Implementation
Our curriculum follows the Early Years Statutory Framework and we have created a long-term plan based around Development Matters 2022 and Birth to 5. We have used 'Golden Threads' to ensure key concepts are visited and to build foundations for future learning in KS1.  Our curriculum outlines clear aspects of knowledge that need to be taught. Clear progression routes have been planned over 3 terms to show how children will meet the ELG statements at the end of the summer term.

Click here to view complete Long Term Plan
Example of the EYFS curriculum building to future HISTORY learning in KS1.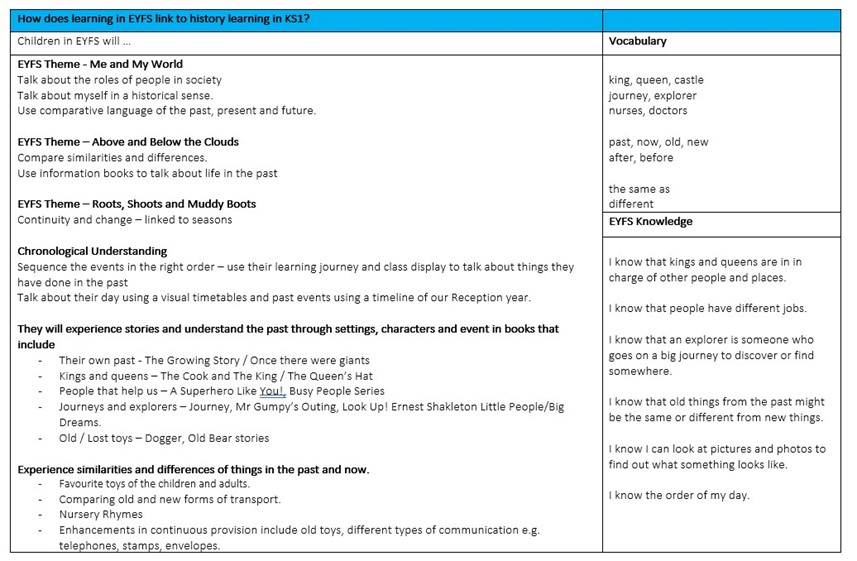 Pupils learn through a balance of child-initiated and adult directed activities and challenges. We have high expectations for all children using Nrich, NCTEM and Read Write Inc to enhance provision in maths and early reading, the weekly timetable is carefully structured so that children get rigorous direct teaching in Phonics, mathematics and writing. We also ensure regular session for Personal Social and Emotional Development (PSED) and topic linked to Understanding of the World (UW) and Expressive Arts and Design (EAD).
Children in EYFS learn by playing and exploring, being active and thinking critically and creatively and this takes place both indoors and in our outdoor area. Our outdoor area is open all year round and in all but the most challenging weather conditions. Children make their own decisions about where they learn best and teachers ensure that there are opportunities for all areas of learning both inside and outside. Children are given time for sustained deep learning through continuous provision sessions where they can work creatively and apply their learning skills. During this time adults use high quality interactions to support children and move their learning on.
We provide effective and focused intervention for those children who are finding learning challenging and are not on track to meet expectations at the end of the year
Impact
The impact of the EYFS curriculum is reflected in the confident, inquisitive, independent learners transitioning into Year 1. Our children are often amazing role models for other children in school.
Pupils have a solid introduction to key concepts, such as a deep of deep understanding of numbers to 10, mapping skills and chronology.
We measure the progress and children's learning across the year through formative and summative assessments which are based on teacher's knowledge of the child. We aim for the majority of our children to achieve a GLD by the time they reach the end of reception.
See also the following documents 
Statutory Framework for EYFS
https://www.foundationyears.org.uk/files/2017/03/EYFS_STATUTORY_FRAMEWORK_2017.pdf
Development Matters in the EYFS
https://www.foundationyears.org.uk/files/2012/03/Development-Matters-FINAL-PRINT-AMENDED.pdf