Homework
Homework makes an important contribution to pupils' progress at school. It provides opportunities for you to develop the partnership with school and share responsibility for your child's learning. We will encourage your child to develop the confidence and self-discipline needed to study on their own, as they get older, preparing them for the requirements of secondary school. By setting homework we aim to provide opportunities for your child to practise and revise what they have been learning in class. Our homework challenges give you and your child the flexibility to complete homework tasks across the half-term in a range of subjects.
Your child can select a task to complete each week, aiming to complete a minimum of 6 tasks each half term. Some of the tasks will be interactive whilst others will need to be completed in a quiet space.  
Here are the current homework challenges.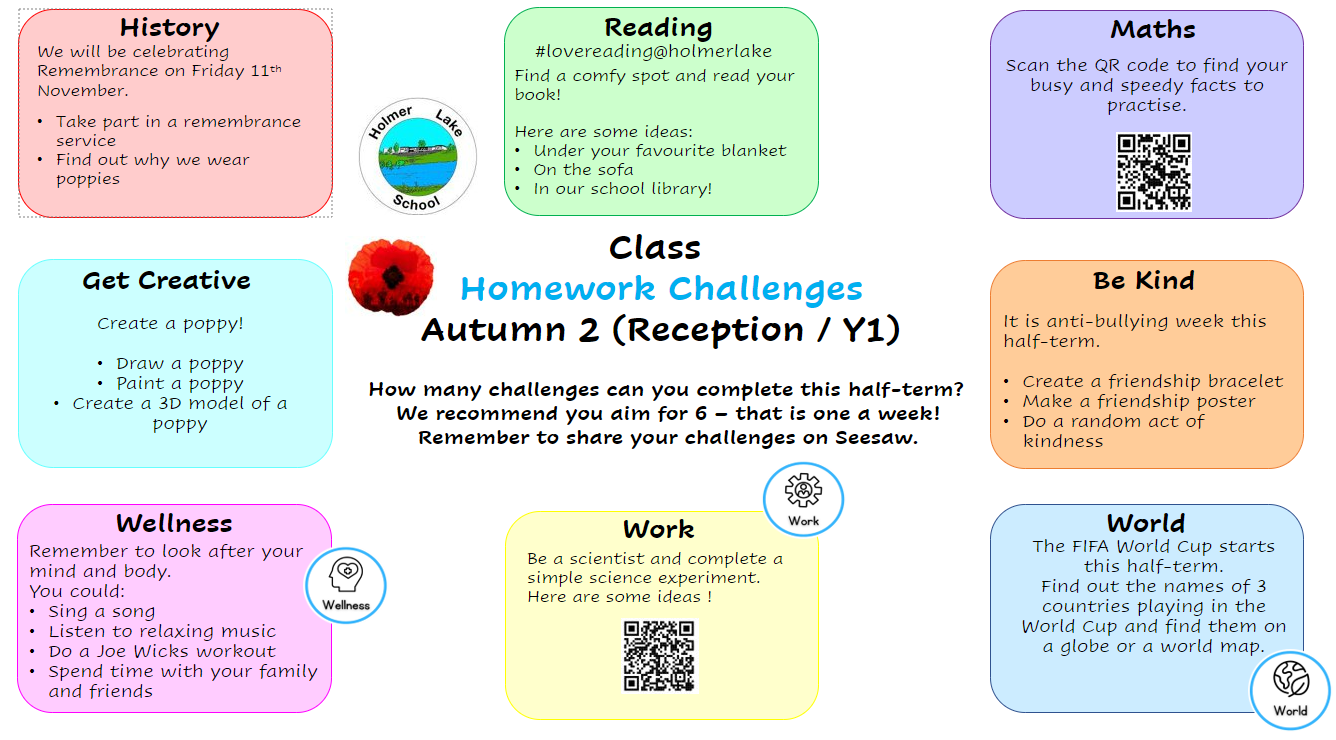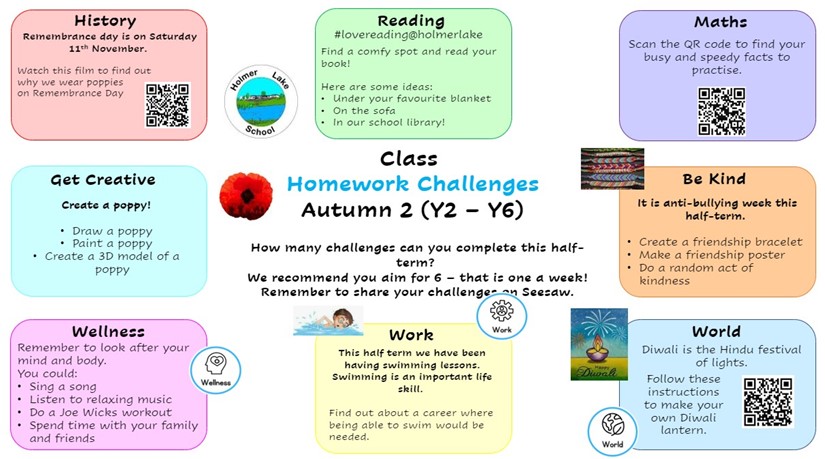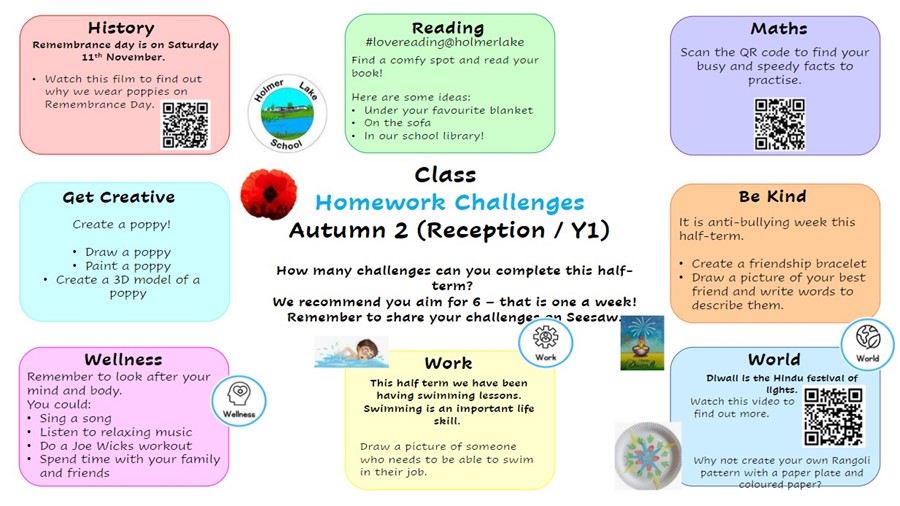 Also see below for the Number Sense and Maths Facts  for each year group, for each term. 
Please click on the year group and current term for your child. 
Reception Autumn Term 1st Half 
Reception Autumn Term 2nd Half 
Submitting Homework 
Completed homework tasks need to be submitted on Seesaw. These can be in the form of photos, videos, uploads etc. Your child has been provided with a homework book and a pencil so that they have access to paper at home, if needed; this homework book can be kept at home and does not need to be sent into school. Any work completed in the homework book can be uploaded onto Seesaw.  

Seesaw is our online learning tool which can be accessed via the internet on any type of device (phone, iPad etc). Each child has their own username and password to access Seesaw. Your child's login details have been sent home with this letter Most children will be familiar with using the seesaw tools however you may find this video guide helpful.  
What is Seesaw? Introduction For Students - YouTube 
 As a parent you can connect to your children's seesaw account to view the fabulous work that they do both in school and for homework. You have received an invite to join Seesaw as a parent. Please follow the simple directions. Additionally, there is a video guide for parents. 
https://help.seesaw.me/hc/en-us/articles/206514655-Families-Get-Started-on-Seesaw-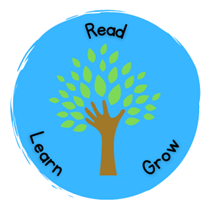 There is a minimum expectation that your child reads at home to an adult at least 3 times a week. Comments by the adults can be recorded in your child's reading record and signed. Reading books and reading records must be sent into school daily.  

By the end of Year 4 the expectation is that every child knows their multiplication and division facts for all times tables up to 12 x 12.
Times Tables Rock Stars is a carefully sequenced programme of daily times tables practice designed to help children master the times tables.
A  "little and often" approach will enable children to master their times tables. If your child has a device at home to access TTRS (tablet or phone) and is allowed time on it to play games, we very much recommend that you encourage part of that screen time is used to play TTRS.
Just three minutes practice a day 4/5 times a week is a good target. Your child's teacher will be encouraging children to achieve this target and using a range of incentives and prizes.
Click here to access a parent guide to Times Tables Rock Stars.